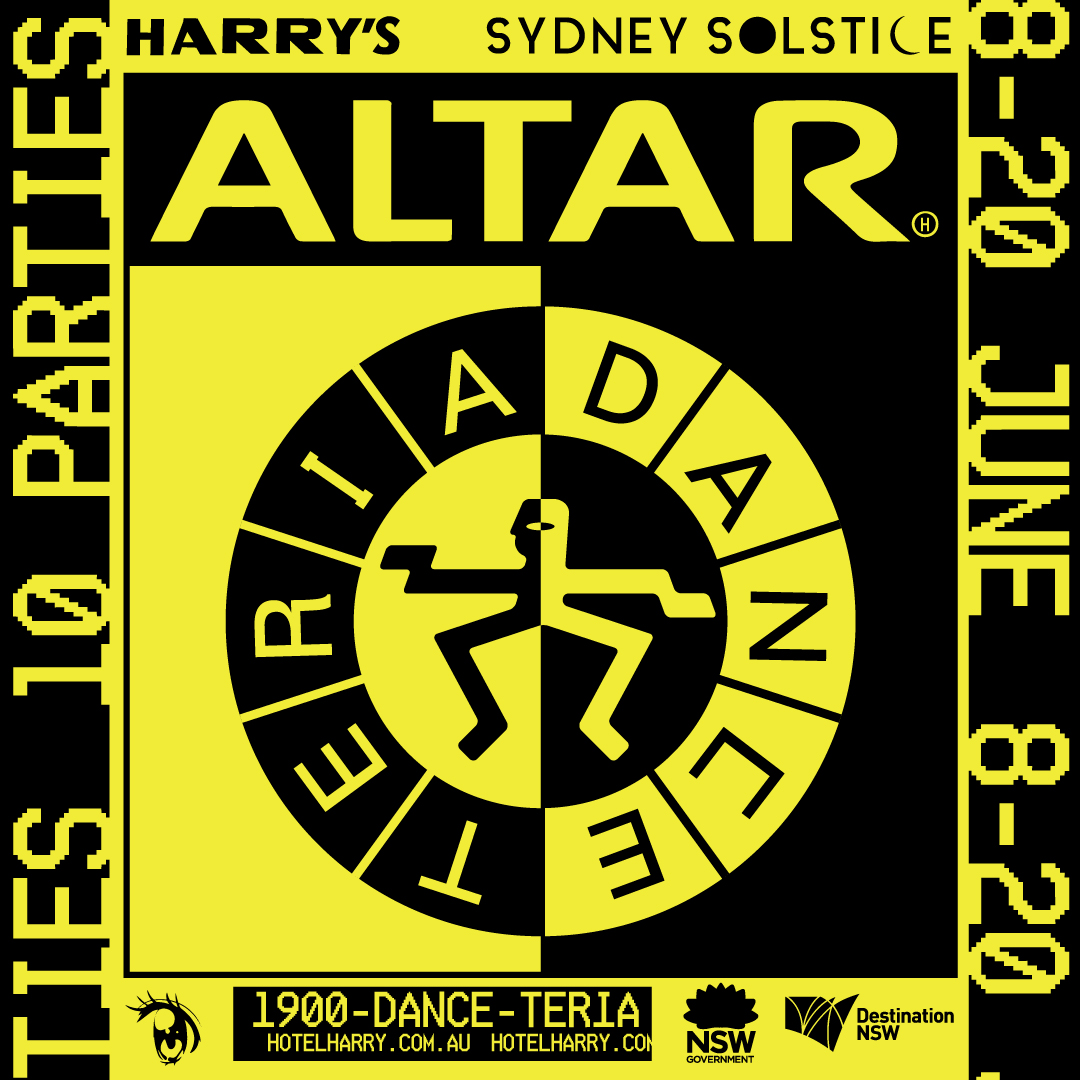 Harry's presents ALTAR Danceteria 
as a part of Sydney Solstice
8th-20th June, 2021
Free always, forever.
Harry's presents 10 events to celebrate the pagan ritual of dance. Running non-stop all festival long, from 6pm every night until 3am, The ALTAR Danceteria offers up an all-you-can eat feast of the best of NSW's long tradition of dance excellence. It's the spirit of rave with a fresh lemony-zest, plastering the walls with throwbacks to 0055 numbers and fluro posters and handbills.
Wed 9 June Scratches Records – feat. P.Smurf & Friends
Thu 10 June Attic Sonic Selection
Fri 11 June Stereogamous Presenté – feat. Stereogamous, Ayebatonye, Working Bitches, Magda
Sat 12 June Here To Hell Records feat. Here To Hell Deejays + Reenie + Vivi
Sun 13 June Finer Things Long Weekend Extendo feat. Clutch For Love, Tangela, Finer Things Deejays
Mon 14 June Harry's Comedy
Tue 15 June Harry's Trivia
Wed 16 June Something Else Records – feat. Dave Stuart + Something Else Selectors
Thu 17 June Gallery Records – feat. Roy Blues (DJ Set), Toux and Special Guests
Fri 18 June Phondupe Album Launch – feat. Phondupe (Live), Body Corp (Soothsayer), Velodrome Deejays
Sat 19 June Cities of Gold – feat. Jono Ma, The Santamaria Bros, Magic Pirate and Special Guests
Sun 20 June Extra Spicy Soundsystem – feat. Champain Lyf, Niku, Mincy
We are praying to the gods for ravedance freedom. It's a ritualistic kinda thing. It's part solemn candlelit ceremony, part fluorescent flash of bright white light from the laser driven sky, with frantic 909 drums of war echoing in the background. Two weeks of portals to new worlds of fun. Get Harry's on the line and dial into the temple of dance.
This series of events will include installations from Babekuhl 'The Altar' + 'The White Light of Night' as well as NFT art from Serwah Attufah.
1-900-DANCETERIA
Ticket links for each event HERE. These tickets will ensure you entry to the event before 7pm.
Harry's Comedy Every Monday I.D. Comedy & Harry's presents. The new home of Comedy… More
We're open Surry Hills. Currently taking bookings for groups of 2-20 guests. Book Now… More