In celebration of Cinco De Mayo, we're hosting a month-long sip & snack road trip, paying homage to the Margaritas & Street Food of our favourite cities and regions of Mexico.
Margaritas certainly are having their moment in the sun and we couldn't be more excited. Working with our friends at Don Julio, we've put together a list of jaw-dropping Margaritas that appeal to all tastes. Our Margarita list will be infused with all the spirit & attitude of the towns we have named them after – Oaxaca, Mexico City, Guadalajara, Cancun & Tulum. Come along for the ride, there's something for everyone.
Take a stop (or many) along the Camino.
#1:   Guadalajara – Classic – 'Straight business'  The birthplace of Tequila – Tequila, Lime, Triple Sec $18

#2:   The Mexico City – 'Attención This one is fire!' – Tequila, Pineapple, Coriander, Mint, Jalapeño, Lime $19

#3:   Oaxaca – 'The Gastronomic Capital of Mexico' – Tequila, Mezcal, Grapefruit, Tamarind & Lime $19

#4:   Cancun – 'Spring Break in a Glass' – Tequila, Mango, Passionfruit, Chamoy, Lime $20

#5:   Tulum – Verdita 'Divine – The Drink of the Gods' – Tequila, Pomegranate, Agua de Jamaica, Lime $20

Head Chef Faris 'Wheels' has created a tight street food style Snacks Menu, snacks designed to enjoy with friends, drink in hand.
Prawn & Corn Taquitos (3) $9
Filled, rolled up & fried tacos – like a Mexican spring roll.
Tijuana, Baja California State

Birria Beef Tacos (2) $12
Beginning as a savoury Mexican beef stew that's slow-cooked until the beef is tender and fall-apart juicy – a bit sweet, a bit sour, with a touch of spice – dropped into a taco, dipped back into the stew, fried until crispy, served with a guajillo & chipotle peppers & oregano dipping sauce – Hermoso!

Elote Street Corn $10
Grilled Corn, Garlic, Chilli, Cotija, Cheese

Complete the Camino and enter yourself in the draw to win a Trip Away for you & 3 friends to your own Beach House in sunny Byron Bay, NSW. There are mucho mas prizes including a Don Julio home margarita kit, Harry's merch packs, Harry's Gift Cards and of course we'll be slinging out some free margaritas for you and your friends.
Prizes
1. Weekend at Sunseeker Byron Bay, stocked with a full fridge and bar full of Don Julio for you + three mates in sunny Byron Bay, NSW. To the value of $3000. Thanks to Don Julio! (T&C's apply)
2. A year of Don Julio Tequila*
3. Don Julio home margarita kit – 1 bottle of Don Julio Blanco, Golden shaker, lime squeeze, knife
4. Harry's Gift voucher worth $500
5. Harry's Gear Pack including Harry's cap, tote bag and 2 x t-shirts
Boot loads of margaritas to win!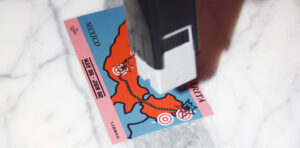 Thursday 5th May – Thursday 2nd June
Camino De La Margarita. A month long sip & snack road trip paying homage to the Margaritas & Street Food of our favourite cities and regions of Mexico. Win a Holiday Weekender to Byron Bay with you + 3 mates, and mucho mucho mas!
Walk-ins welcome, bookings recommended
Harry's Comedy Every Monday I.D. Comedy & Harry's presents. The new home of Comedy… More
We're open Surry Hills. Currently taking bookings for groups of 2-20 guests. Book Now… More