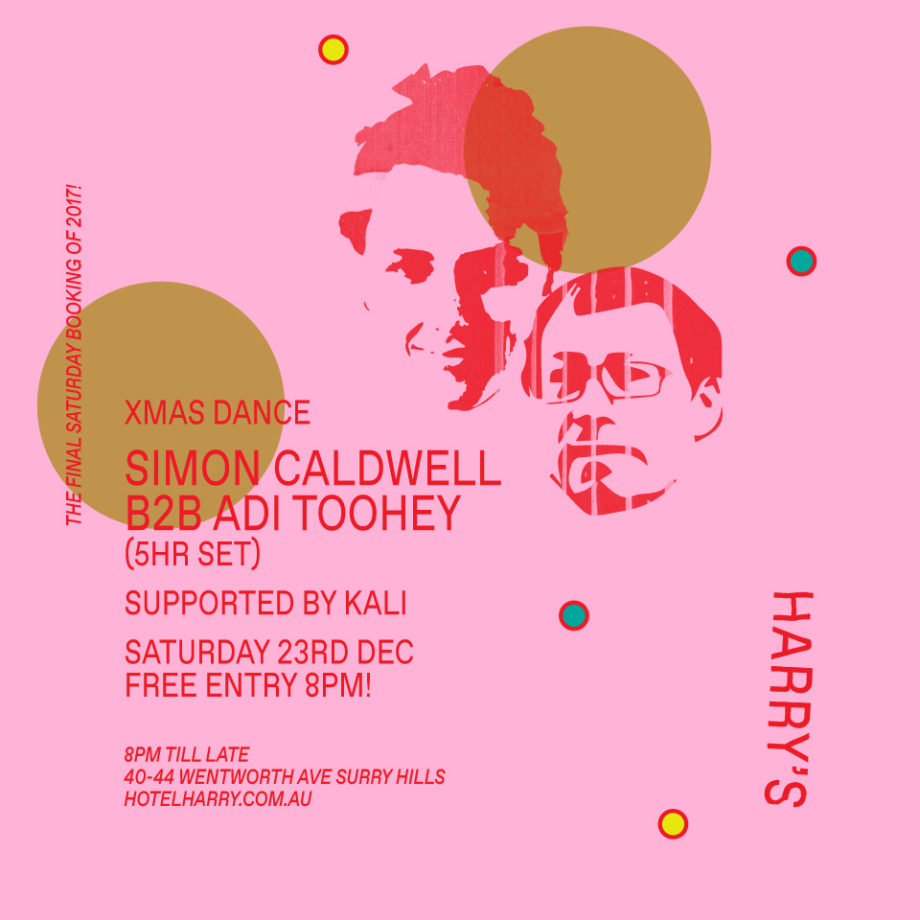 DEC 23 Harry's Xmas Dance w/ Simon Caldwell B2B Adi Toohey & Kali
What an amazing year we've had at Harry's! It's hard to recap all the epic things that have happened in one short message, but we'll try. From the start of the year to the end, we've hosted some of the best selectors such as Mood II Swing, Mike Dunn, Virginia, Sean Johnston, Rick Wilhite, Frank Booker and Jayda G just to name a few. We've danced it out every week with legendary local DJ's such as CC DISCO, Wax Paradiso, Animals Dancing, and because you've all been so good we thought we'd give you one final treat for the year!
Both long-standing friends of Harry's and equally respected DJ's in the Sydney music scene, Adi and Simon first met while working behind the scenes at FBI Radio. Initially volunteering at the station as a receptionist, Adi then came onboard as a producer for Simon's Monday Sunset show! While the two of them worked together for a few years and presumably had a boogie or two to each other's sets, we've been told that this is their first proper B2B! If you aren't already satisfied, this will be a 5 HOUR B2B BANANZA with Kali on support duties as well!
It's fair to say this will be history in the making!

Simon Caldwell
Simon Caldwell is one of a handful of DJ's whose name adds a certain integrity to an event. Playing since the early 1990', he has managed to avoid the stifling 'style' classification so many other DJ's trap themselves into. His incredibly rare ability to find that common thread between deep, soulful house, techno, funk, jazz, electro, hip hop and anything else that catches his ear has seen him support a massive list of internationals including Theo Parrish, Moodymann, Frankie Knuckles and Jeff Mills, to name a few.
As a massive contributor to Sydney's party scene for last two decades, Simon showcases music from around the globe on his Monday sunset show on FBi Radio and is resident/co-promoter of Mad Racket. His sets are always diverse and provide a masterclass in DJing. So come for a free lesson or just come to dance your heart out!
++++++++++++++++++++++++

Adi Toohey
Constantly swimming in aural pleasures, you'll either find Adi Toohey controlling the dancefloor from a Sydney DJ booth, presenting Saturday Sunset on FBi Radio, working in record stores or hosting parties with her Rimbombo crew. Now a graduate headliner, Toohey carved a name opening for the likes of Hunee, Young Marco and The Black Madonna, playing Dark Mofo, Subsonic and Splendour in the Grass festivals and for interstate crews Daydreams, Luxury and A Love Supreme.
For three solid years of prime time broadcasting on FBi Radio, Adi's been keeping windows down and stereos up. While her own FM blends always satisfy, the show has also featured live cameos from Hashman Deejay, PLO Man, Funkineven, Rahaan, Byron The Aquarius, Fett Burger and Sotofett. If you need some more music off the dancefloor be sure to check her vibin' mixes of jazzy house, boogie and subterranean club music on Boiler Room, NTS, Sanpo Disco and Libra Mix.
Harry's Comedy Every Monday I.D. Comedy & Harry's presents. The new home of Comedy… More
We're open Surry Hills. Currently taking bookings for groups of 2-20 guests. Book Now… More