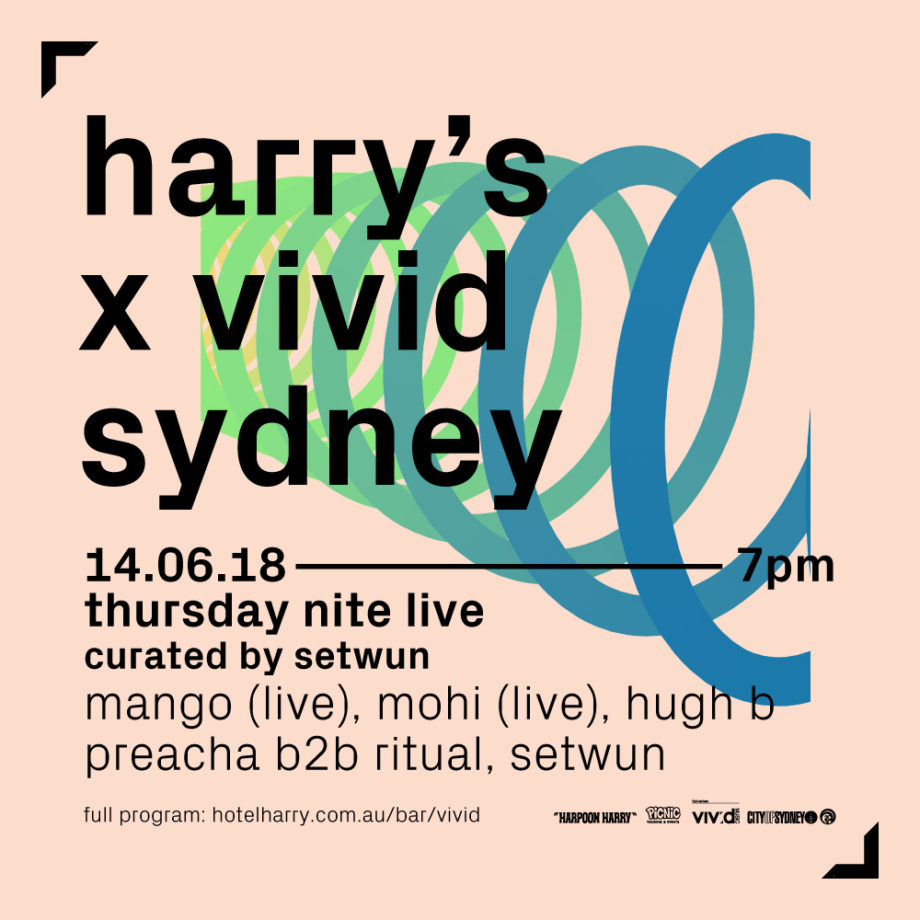 JUN 14 – Thursday Nite Live x Vivid Sydney: curated by Setwun
Not saving the best for last by any means but gosh we're stoked to have Setwun curate our final week of Thursday Nite Live! He's called on two of his buddies who also played live with him last year; Mohi and Mango – so it's all coming up awesome!
Setwun
Setwun is the musical brainchild of producer, multi-instrumentalist, and DJ, Josh Panakera-Molony. Covering a broad spectrum of sounds, his music moves with ease from low slung grooves to dance floor tempos, all with a deep undercurrent of soul music and it's various offshoots. Connection, communication, and movement form the core of his productions and sets, joining musical dots while creating tangible auditory experiences.
Mohi
Drummer, beat maker and producer. Moses has developed his vast musical knowledge from his Jazz musician parents. From a young age he began playing saxophone but soon gave up after discovering his passion for drums.
Along with a vast range of musical genres, Moses developed a great fondness for hip hop and sample based music. He soon began experimenting with an MPC 2500 and turntables in 2004 and has been sampling, recording and building his repertoire ever since.
Mango
A producer, DJ and multi-instrumentalist from Sydney who's roots are drenched in hip hop and jazz. Mango experiments with house, broken beat, jungle, hip hop and psychedelic music, mostly sampled from the fruits of his record collection. Somewhere off in space piloting his MPC1000, he stretches the boundary between hip hop, jazz and electronic music.
They'll be joined by DJs Hugh B and Preacha b2b Ritual!
We cannot wait!
Harry's Comedy Every Monday I.D. Comedy & Harry's presents. The new home of Comedy… More
We're open Surry Hills. Currently taking bookings for groups of 2-20 guests. Book Now… More