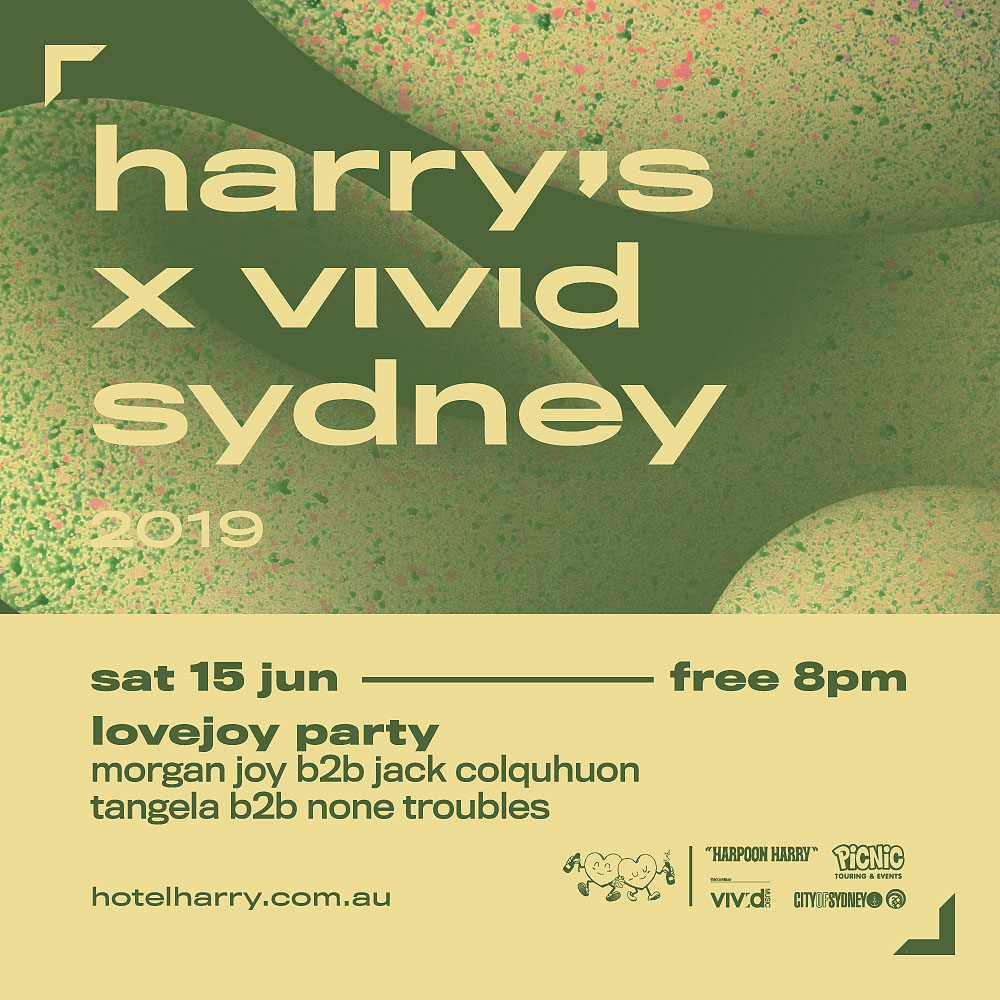 JUN 15 – Harry's x Vivid 2019: Lovejoy Party
To close out our 2019 Vivid program we're handing the keys over to upcoming underground crew Lovejoy PTY LTD, for a very special debut at Harry's.
Lovejoy kicked off their love affair with throwing parties only a year ago but have become well and truly addicted to everything the scene has on offer. From bunkers to warehouses, in public and at the club, their shindigs have hoped to create an intimate community of people who love to dance and get friendly.
With acts like Tom Trago, k2k, Lauren Hansom, Lou Karsh, Jennifer Loveless, Freda & Jackson and Andy Garvey just a few of those they've had features at sell-out events, you can trust they know how to curate good wholesome fun.
Leading the b2b charge is Morgan Joy, he's a lover and a fool with a penchant for cosmic breaks, bygone disco and anything remotely euphoric. One half of Lovejoy, he advises that you stretch beforehand; especially for this b2b w/ his partner in crime. Jack Colquhoun, arguably Lovejoy's better half, is equal parts mover and equal parts shaker, stirred lightly over breaks. From bunkers to bridges to rooftops and even outer space, he hopes to go the extra mile in ensuring your good time. With a taste for slick percussion and general tomfoolery he's Morgan's perfect other half.
When Tangela hits the decks expect minimal to garage and everything in-between, she isn't afraid of playing with genres and her sets are always about having fun. Going b2b with her is none other than None Trouble, with a keen ear for groovy house and disco. She's a selector of bright melody's and catchy vocals so expect many a dance floor thumper.
Hope to see you there.
💕
Harry's Comedy Every Monday I.D. Comedy & Harry's presents. The new home of Comedy… More
We're open Surry Hills. Currently taking bookings for groups of 2-20 guests. Book Now… More