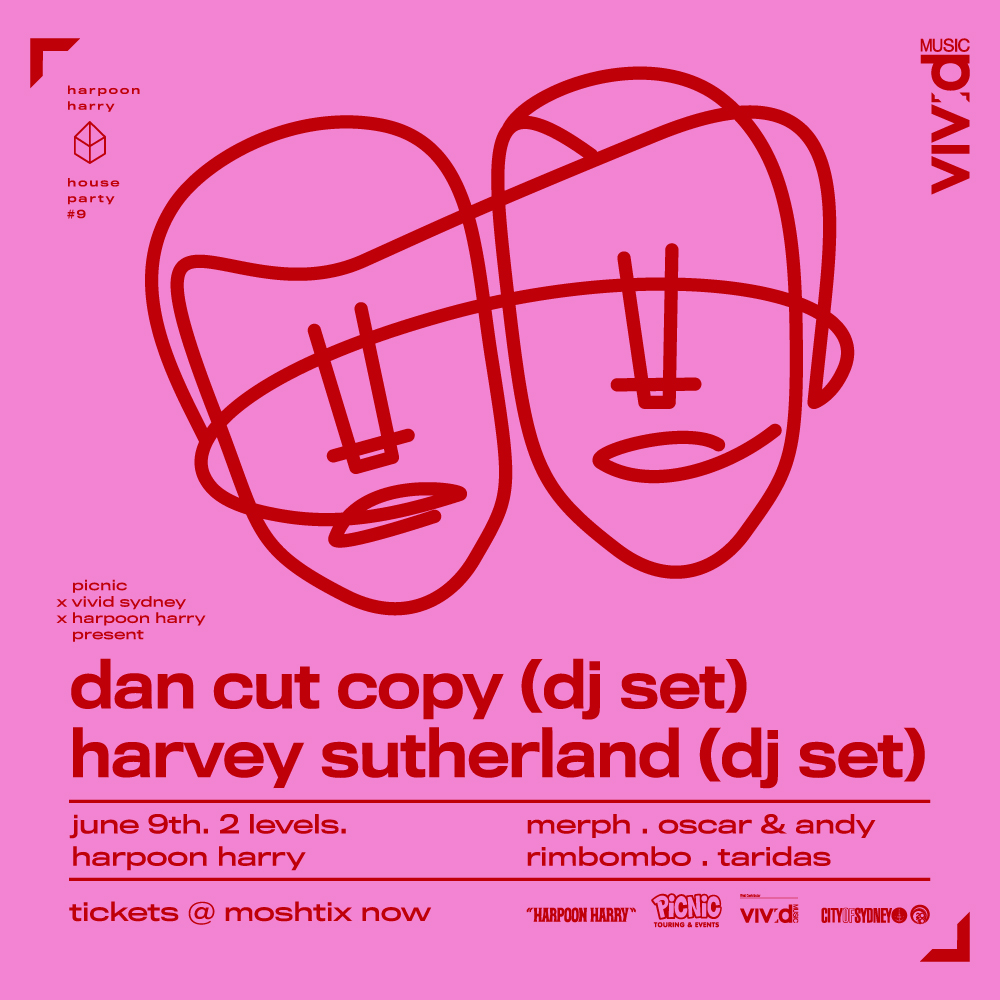 Harry's House Party #9
Ft. Dan Cut Copy (dj set) & Harvey Sutherland (dj set)
June Long Weekend!
Sunday June 9th
Picnic Touring & Events, Harpoon Harry & Vivid Sydney bring to you the 9th instalment in our beloved House Party series. We're doubling down with 2 x the headliners, and representing some of the most unique sounds to come from our continent. 
Taking you skyward this Vivid a pair of Australia's leading lights…
Dan Whitford is the founding member behind the creation of the seminal Australian band Cut Copy. Etched into the collective memory of dance music fans of the early 2000's, Cut Copy blazed an unfamiliar path, with their bright synth-pop compositions fusing with the four to floor energy of dance music of the time. Continuously adding to the tapestry of aus dance music for over a decade, few have had the impact that Dan has.
Touring the world, Cut Copy played thousands of sold out live shows, and countless DJ sets at clubs and afterparties. Harnessing this experience, Dan Whitford (Cut Copy DJ's) takes to the decks at Harry's for what is sure to be a highly danceable insight into his creative mind and dance music influences.
A standout sound in the Australian electronic landscape, Harvey Sutherland brings live instrumentation and rhythmic flair to the traditionally straight and sequenced world of dance music. Still rooted in soul, disco and funk, the modern techno universe was not exactly where he fit – and so Harvey Sutherland instead sought to create a world of his own. "Looking for songs in strange places", as he says, but in ways only he knows how to look.
Touring Australia in 2018 with band Bermuda, Harvey Sutherland performed his compositions as they were intended to be heard, live, raw and oozing with soul. Returning to the DJ decks for Harry's Vivid 2019 program, we get an opportunity to peruse the record bag of an Australian dance innovator..
A carefully crafted lineup of emerging Australian artists supports the two headliners, to fill out one of our most stacked House Parties to date.
What: Harry's x VIVID 2019, Harrys House Party #9 featuring Dan (Cut Copy DJ's), Harvey Sutherland with supports Merph, Oscar + Andy, Rimbombo & Taridas
Harry's Comedy Every Monday I.D. Comedy & Harry's presents. The new home of Comedy… More
We're open Surry Hills. Currently taking bookings for groups of 2-20 guests. Book Now… More