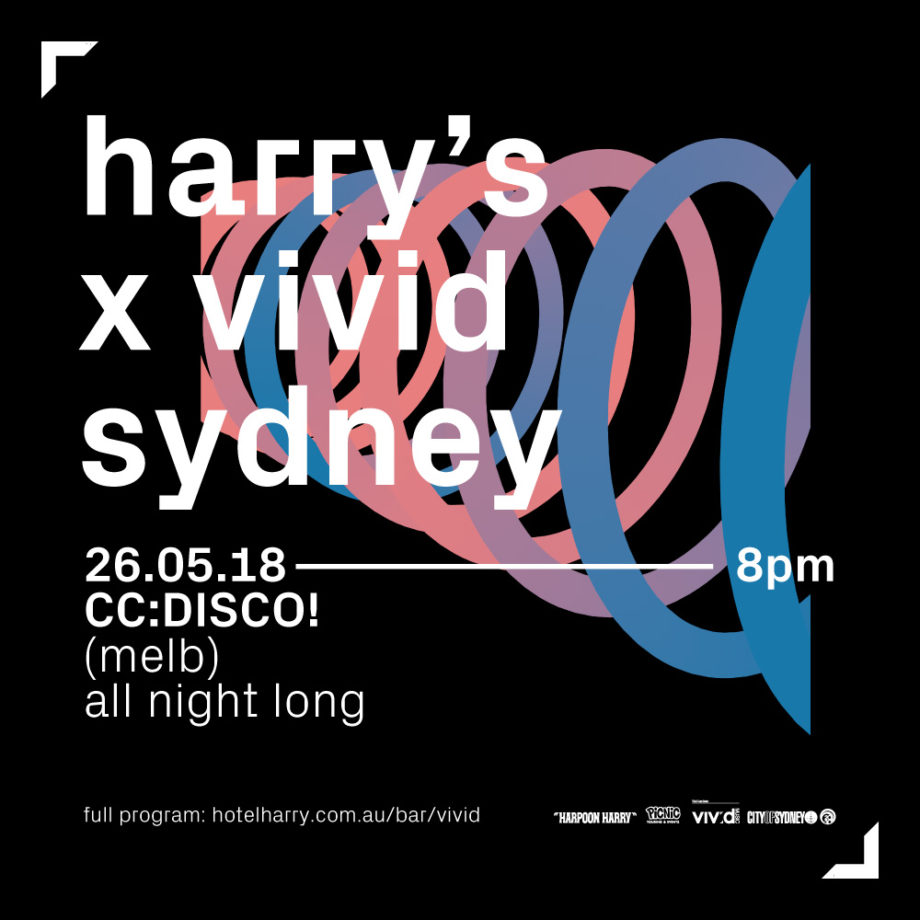 MAY 26 – Harry's x Vivid Sydney: CC:Disco! All Night Long
One of our program standouts in 2017; it was top priority to enlist Australia's #1 disco export back to send dancers into a sweaty frenzie! It was so good infact, this year we offered her an all-night set!
"Less chin stroking, more dancing". CC:DISCO's t-shirt really says it all. Playing disco, house and boogie cuts with her heart at the controls, CC triggers a joyous feedback loop that infects the dancefloor. There's no pretention, only pure feeling.
A mainstay of the Melbourne club scene, CC began connecting with audiences just like the heroes before her — through FM radio. Having presented shows since the age of 15, her weekly slot on local institution PBS FM Smoke and Mirrors is now celebrated as the essential start to every Friday night. All of this air time has primed her to knock out guest spots on NTS, Red Light Radio, Worldwide and Dublab.
In recent years, CC's devotion has seen her graduate to touring DJ and main stage festival act. She's lapped Australia three times in 12 months and ticked a large chunk of her bucket list — opening for Theo Parrish in Auckland, soundtracking the romantic Adriatic Sea at Dimensions and Soundwaves, Boiler Room and Meredith's coveted Supernatural Amphitheatre, as well as making her mark between Move D and Moodymann at Strawberry Fields, cloaked in a tarp as the crowd rain danced through a belting storm.
Already hosting the likes of Rahaan and Rich Medina, Club Coco is destined to be an important chapter in Melbourne's illustrious nightlife.
Harry's Comedy Every Monday I.D. Comedy & Harry's presents. The new home of Comedy… More
We're open Surry Hills. Currently taking bookings for groups of 2-20 guests. Book Now… More