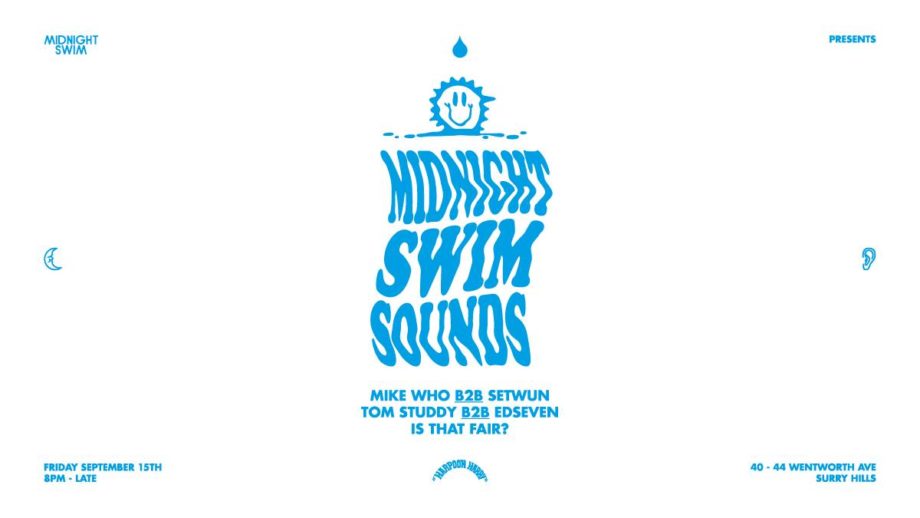 SEPT 15, 8PM TILL LATE
Harry's: Midnight Swim presents. Edseven, Setwun, Mike Who & more!
Midnight Swim extended family & friends lock in for an all night affair at Harry's, Covering everything from jazz, soul & hip hop through to house, broken beat & outernational vibes!
Extended back to back sets from…
Tom Studdy & Edseven
Mike Who & Setwun
…is that fair?
—
SEPT 16, 8PM TILL LATE
Animals Dancing & D.K. (France)!
We're stoked to welcome back one of our favourite labels and party people from Melbourne, Animals Dancing!
D.K.
This time they're bringing one of the leaders of the French balearic house sound, D.K. Sporting a multitude of aliases, D.K. has released two albums on Antinote, Odd Frequencies, L.I.E.S and Russian Torrent Versions. He is one of the very few producers that has the DJ skills to match an already eclectic style that is danceable and cutting edge, having recorded mixes for the prolific Solid Steel, Coastal Haze, Red Light Radio and Rinse FM. We are so excited to bring his music to you, by the bar at Harry's!
Otologic
Otologic amazed us last time with their unrivaled selection of house, boogie and italo disco. Their "Good Morning Australia" show on NTS Radio is one of our favourites when it comes to offering a new perspective on dance music with classic house grooves.
Andee Frost
Andee's sets are infamous for heating dance floors around Australia. His house and disco sensibilities have earned him another round upstairs at Harry's, just remember to know your emergency exits – IT'S GONNA BE FIYAH!
Harry's Comedy Every Monday I.D. Comedy & Harry's presents. The new home of Comedy… More
We're open Surry Hills. Currently taking bookings for groups of 2-20 guests. Book Now… More