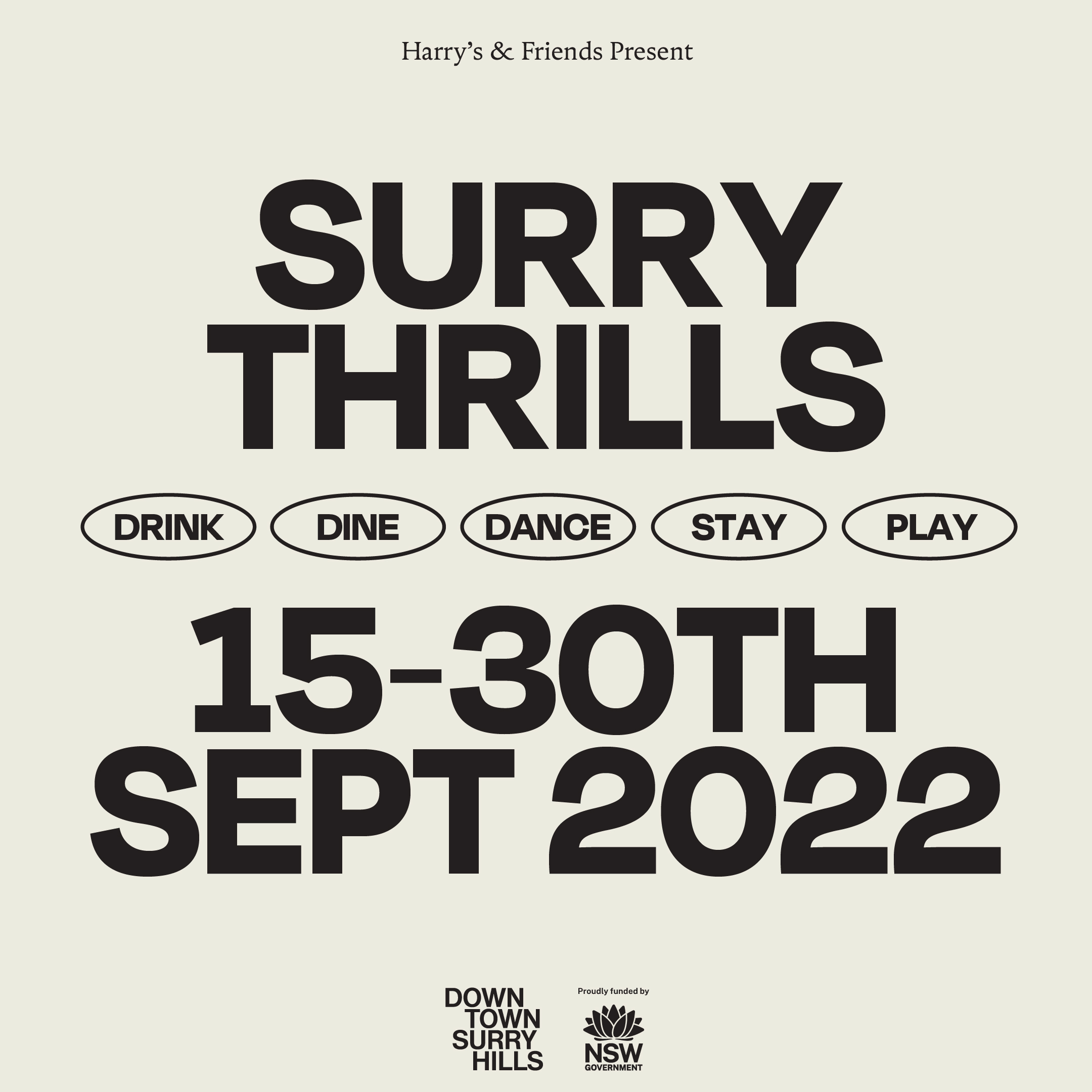 HARRY'S & FRIENDS PRESENT
SURRY THRILLS x HARRY'S
A festival celebrating Sydney's most vibrant precinct
15-30th September
Music Program
Leading the charge, Hotel Harry has programmed a world-class entertainment lineup, featuring some of Australia's best music, including NINA LAS VEGAS, FLEETMAC WOOD all night long, balearic house/party disco sensations WAX'O PARADISO, an all night long session with the legendary Revolver Upstairs residents MIKE CALLANDER & ACID SAFARI, plus LUKE ALESSI & SHANTI bringing the tech-house power, iconic NZ party master AROHA, two daytime-friendly Sundays from ASTRAL PEOPLE and HOUSE OF MINCE, with dancefloor action from Thursday until Sunday every week, plus special guest comedy superstars and heaps more vibing up the House of Harry.
For the latest info please visit The Surry Thrills Instagram page HERE.
Hotel Harry-OKE
There's no party like a hotel party. Unless it's a karaoke party. And if you combine the luscious, majestic 110 year old Hotel Harry's suites with karaoke, you get the ultimate party: the Hotel Harry-oke party!
Taking inspo from the backstreets of Shinjuku, Hapjeong and Brooklyn, but unmistakably Sydney, this is the dream for people in search of a sensational time with their friends.
5 sumptuous hotel suites have been converted, Harry-style, into bookable rooms where you can switch on your favourite hits and belt them out with your team. It's karaoke, but luxuriously appointed: experience a fully stocked mini-bar at your disposal while you and your team sing -the best- songs ever, with room service awaiting to bring you Harry's iconic drinks and snacks until late in the night.
For bookings please follow the bookings tab & For any extra info needed please email
Rosie Deacon
Artist In Residence.
Off the back of her recent collaboration with Ken Done, artist Rosie Deacon takes over the upstairs Diner with an immersive installation of super pop creations. Blurring the lines between contemporary art, craft and wearable sculpture, Rosie uses intense colours and tactile materials, often being found objects, that will transport you to a dream-like joyous forest.
For more on Rosie please go here.
HARRY'S NEGRONI WEEK
6-7 pm, $12 Happy Hour Classic Negronis
Harry's Comedy Every Monday I.D. Comedy & Harry's presents. The new home of Comedy… More
We're open Surry Hills. Currently taking bookings for groups of 2-20 guests. Book Now… More