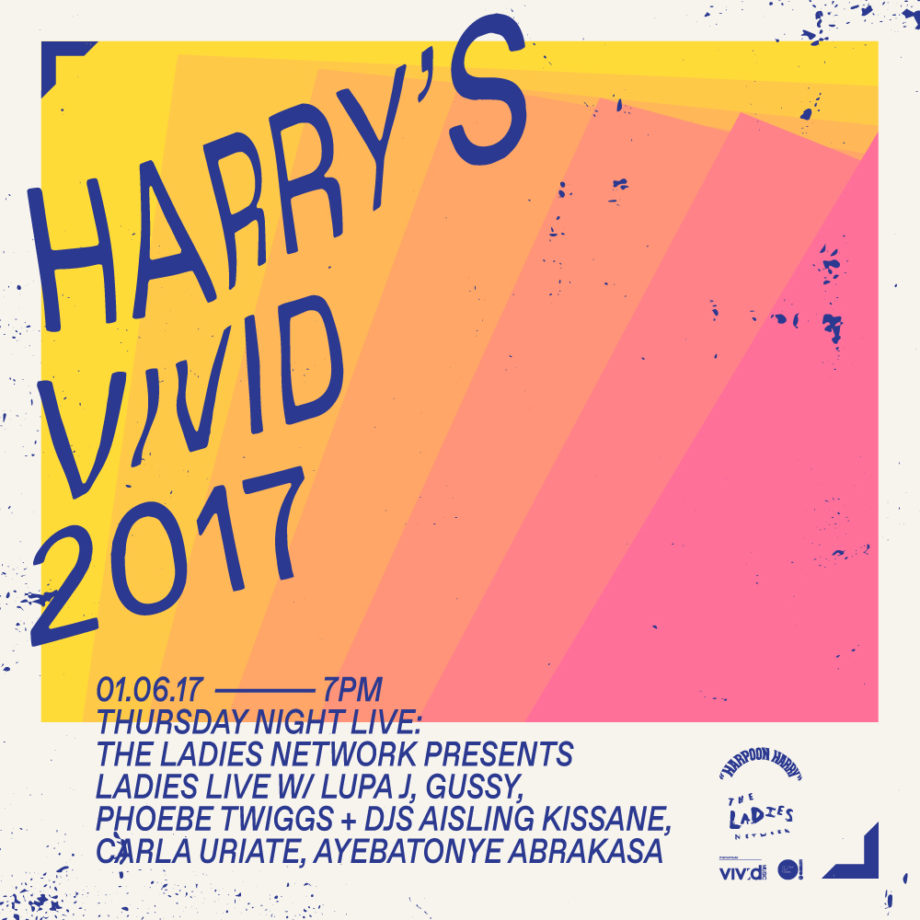 Every Thursday night during Vivid, Harpoon Harry will present "Thursday Night Live" — a night of emerging and established live electronic acts with supporting DJs. Tonight The Ladies Network will add their femme touch to the program!
You may be familiar with the art exhibitions or hang out days hosted by The Ladies Network but it's been a while now since they've presented us with their much-loved music event, 'Ladies Live'. In line with their exhibitions and their online presence, they aim to include a mix of emerging and established local artists in their line-ups, all of whom are female-identifying or gender-fluid. Their events in the past have included talented genre-mixing artists such as NOIRE, Rookie, Okenyo, Kimchi Princi and Phoebe Twigg.
A thriving hub, The Ladies Network celebrates feminist causes, showcases talent and reclaims the female voice.
The live line up includes:
~ Lupa J ~
Lupa J's fresh sound immediately attracted the attention of international music tastemakers whenat the age of 15 she posted her first three songs on Soundcloud. DIY wrote there's something in the way she makes predominantly electronic, gadgety things seem like they've come straight out of some pagan cave of organic sounds. At home Triple J nominated her as finalist for an unprecedented two years running in their Unearthed High competitions of 2014 and 2015. Lupa J is an outstanding and prolific songwriter and producer. A musician's musician, in 2016 she scored some huge support spots for Grimes' Sydney show, Sarah Blasko's national tour, and Tegan and Sara's shows in Melbourne and Sydney amongst many others.
—
~ Gussy ~
"Mornings" is the latest single from Sydney's Gussy. Written by Gussy and co-produced alongside Australia's leader in grime, Strict Face (NLV Records), Mornings is a fast paced cut of left-field pop punctuated by a bouncing synth line and an instantaneous vocal hook. It comes as the follow-up to last year's single "Looking At Myself" which included a remix from Air Max 97 and saw them perform with the likes of Kllo and Oscar Key Sung. Drawing from their training as a ballet dancer and filmmaker, Gussy's audio-visual work examines the agony of broken intimacy, and constant self-reflection.
—
~ Phoebe Twiggs ~
ptwiggs aka Phoebe Twiggs is a producer based out of Sydney with a special interest in sound engineering. She explores extreme cathartic emotional states through her expansive and challenging deconstructed bass productions. Working with software and extended recording techniques, she continues to develop her sound while cementing her place in the experimental club music scene.
with DJs:
~ Aisling Kissane (Control Zine) ~
Aisling Kissane is a music writer, publicist and founding editor of Control Zine an online music magazine and biannual zine based out of Brisbane. Control Zine has interviewed musicians including St Vincent, Weyes Blood, Haim and Jane Birkin.
~ Carla Uriarte ~
If you knew Carla youd know shees pretty good at slam dunking. Shes good at many other things too. Like moving a lot. She was born in Manila, grew up in LA & San Francisco, then moved to Spain and onto Sydney – where she now resides spending time under the southern sun breeding magical animations and writing stories for you. Its pretty obvious that frequenting diverse locations is what gives her a push.
~ Ayebatonye Abrakasa ~
Harry's Comedy Every Monday I.D. Comedy & Harry's presents. The new home of Comedy… More
We're open Surry Hills. Currently taking bookings for groups of 2-20 guests. Book Now… More