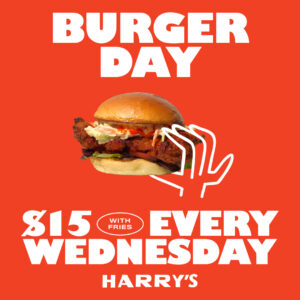 Our Favourite Day of the week.
$15 all day every Wednesday.
HARRY'S BURGER
Wagyu patty, secret sauce, cheese, tomato, lettuce, pickles, onion.
CHICKEN BURGER
Buttermilk fried chicken, pickles, ranch, shaved cos.
BLACK BEAN & ONION PATTY BURGER
Vegan cheddar, hash brown, beetroot relish.
Or come in & try our weekly Secret Burger!
Walk-ins welcome
Bookings recommended
Harry's Comedy Every Monday I.D. Comedy & Harry's presents. The new home of Comedy… More
We're open Surry Hills. Currently taking bookings for groups of 2-20 guests. Book Now… More