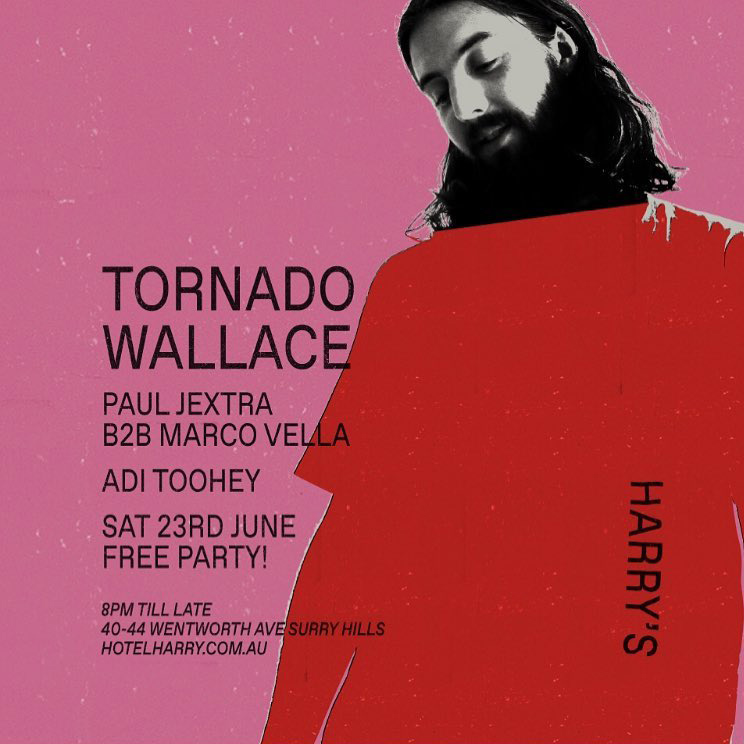 JUN 23 – Harry's: Tornado Wallace, Adi Toohey + Marco Vella & Paul Jextra
Picnic Touring & Events and Harpoon Harry are over the moon to announce the return of Australia's finest export, the one and only Tornado Wallace! A very obvious favourite between the both of us, he was last seen in Sydney closing out the Picnic 10th birthday and at that absolutely raucous after party upstairs at Harry's with Fantastic Man, Ben UFO and Ben Fester.
If you're unfamiliar, Tornado Wallace is a Berlin local via Melbourne. In his days down under his distinct and perceptive house sound lead the new guard of Australian producers, which drew the attention of record labels from across the seas. He's since released his unique brand of organic-electronic, dreamy but direct dance floor music on ESP Institute, Beats In Space, Animals Dancing, Gerd Janson's Running Back, Sleazy Beats Recordings and Music From Memory's sister label Second Circle. That's one huuuuge CV!
As a DJ, he has the ability to seamlessly weave between genres and his knack for digging out rare and unhinged eclectic bangers makes him as popular a selector as he is as a producer. Also popular for the all around lovely guy that he is, we're looking forward to having that face and that beard attached bouncing around the decks at Harry's at the end of this month.
Harry's Comedy Every Monday I.D. Comedy & Harry's presents. The new home of Comedy… More
We're open Surry Hills. Currently taking bookings for groups of 2-20 guests. Book Now… More