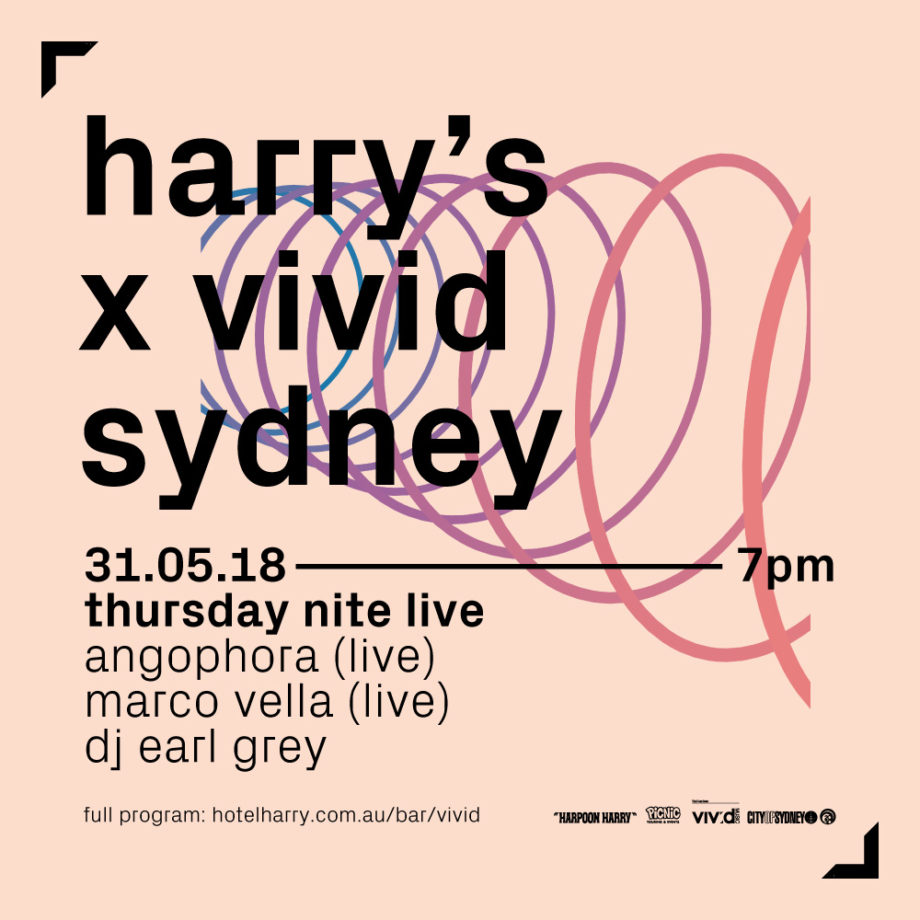 MAY 31 – Thursday Nite Live x Vivid Sydney: Angophora & Marco Vella
One of our favourite nights during our 2017 Vivid Sydney program was the debut show of Angophora, a night double billed with Marco Vella live. As with a few of our bookings from last year we couldn't wait to do a take two and open our 2018 Thursday Nite Live events with these two!
Angophora (live)
Since their debut live show they've become a three piece group, gone on to play numerous shows and release their debut album on Sydney label Ken Oath! Sydney locals Max Santilli & Jake Fugar – the founding members – will strip back to a two-piece for this one, with a set-up geared towards the more electronic & ambient aspect of their sound.
Marco Vella (live)
Since this talented multi-instrumentalist completed his studies in Audio Engineering at SAE Institute he has recorded, produced and engineered for a number of musical projects.
His passion for live performance has seen him succeed in touring Australia extensively with Sydney/Melbourne 3 piece, Retiree and also as a solo artist, performing in venues such as Museum of Contemporary Art Australia and the Sydney Opera House.
DJ Earl Grey
One of the brains behind Ken Oath Records and one third of party collective Rimbombo this deejay has a refined ear and a keen urge make a room feel right! On this night we couldn't think of a better guy to get things started.
Harry's Comedy Every Monday I.D. Comedy & Harry's presents. The new home of Comedy… More
We're open Surry Hills. Currently taking bookings for groups of 2-20 guests. Book Now… More