OCT 21 -Post Rally Party with Heaps Gay x DIY Rainbow at Harrys x KSO
We're beyond stoked to be part of Keep Sydney Open's next mammoth district party! MEET ME IN DARLO is happening this Saturday and we've put together two floors of music to wear out of the soles of your dancing shoes!
KSO party isn't the only important happening in the area this weekend; the next Equality Rally will be held this Saturday too ~~ > YES March! – Sydney for Marriage Equality!
So in the name of truly bringing as life to the area as possible we've teamed up with Heaps Gay and DIY Rainbow to bring you a post-rally party that's all kinds of YES!!!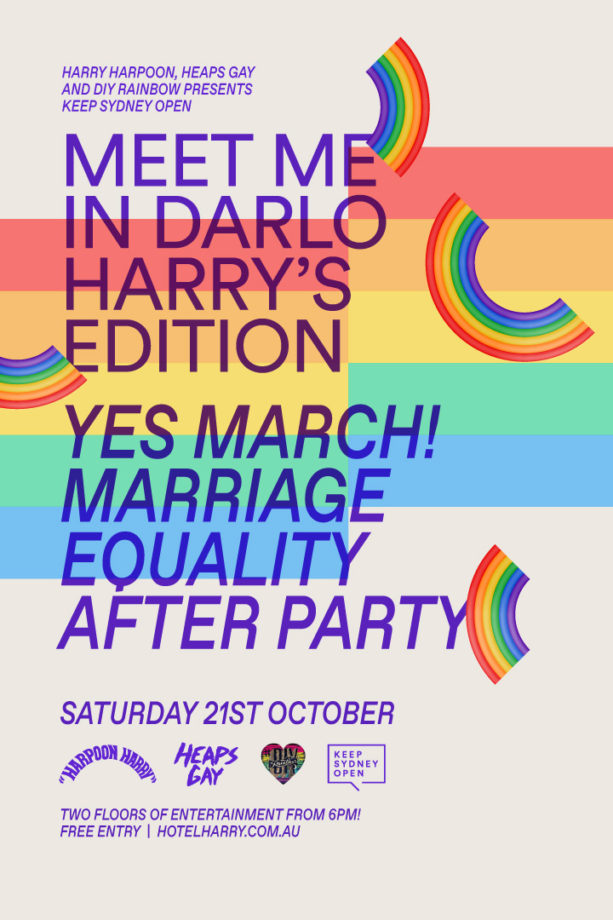 GROUND FLOOR

Heaps Gay x DIY Rainbow presents..
Matt Vaughan (Loose Ends)
DJ Sveta
HipHopHoe Niveen Hoe
Astrix Little
Double DJ
Heaps Gay DJ's
With special performances from Stelly G & Gina Colada !
HARRY'S LOUNGE
Upstairs on Level One we've called on some flat out faves including Melbourne Deepcast's tallest man in house!!

Myles Mac (Melb)
Adi Toohey b2b Kali
Taridas (Sydney Pony Club!)
All this for zero dollars entry! This Saturday!!
Harry's Comedy Every Monday I.D. Comedy & Harry's presents. The new home of Comedy… More
We're open Surry Hills. Currently taking bookings for groups of 2-20 guests. Book Now… More