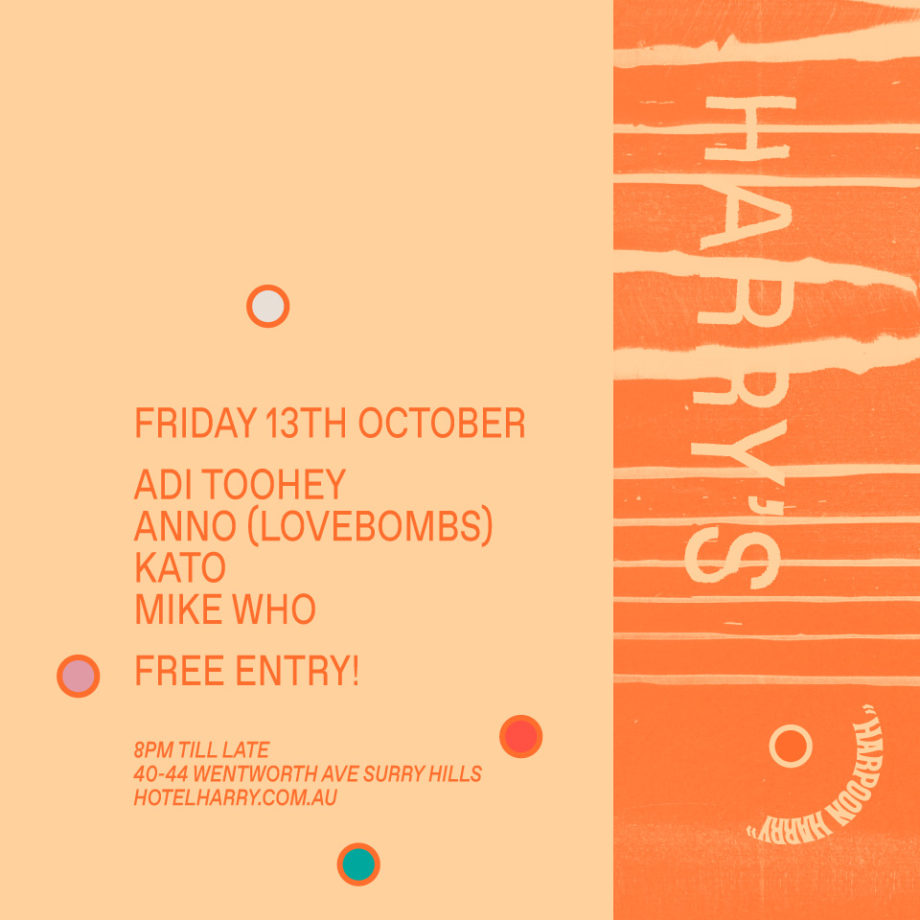 OCT 13 – Mike Who, Adi Toohey, Kato and Anno!

KATO
If you've ever danced in Sydney you would know the name Kato. One of Sydney's backbone DJ's, Kato has been responsible for some of the biggest nights this city has seen this decade. With a taste spanning far into the depths of House, Disco, Techno and everything in between, it is no wonder Kato draws a crowd week in week out!
—

ADI TOOHEY
They call her the queen of Sydney for a reason and it's about time you found out why! This has been a big year for Adi with an electrifying set at Boiler Room and a whole string of support slots for the likes of Mike Dunn and Project Pablo to name a few! As you will find out, Adi is no stranger to Harpoon Harry's and knows exactly how to make it spring to life. So, strap on your favourite Disco shoes and join us upstairs this Saturday!
—

MIKE WHO
Our boy is not afraid to get his hands dirty, digging through crates and blowing out the cobwebs of Hip-Hop, House and Disco rarities. Chances are you've seen Mike spinning his collection of rare 45s around Sydney town. Label boss of Midnight Swim, his innate ability to seek out fresh new sounds is as impressive as his selection of timeless classics. Let Mike Who soothe your soul this Friday night!
—

ANNO
A huge part of the Lovebombs family and legendary party starter, this man knows how to warm the floor to alarming degrees. With a record collection that boasts a deep knowledge of Disco, House and Boogie, you can expect this set to get steamy! Come on down to watch him ramp up the heat this Friday night.
—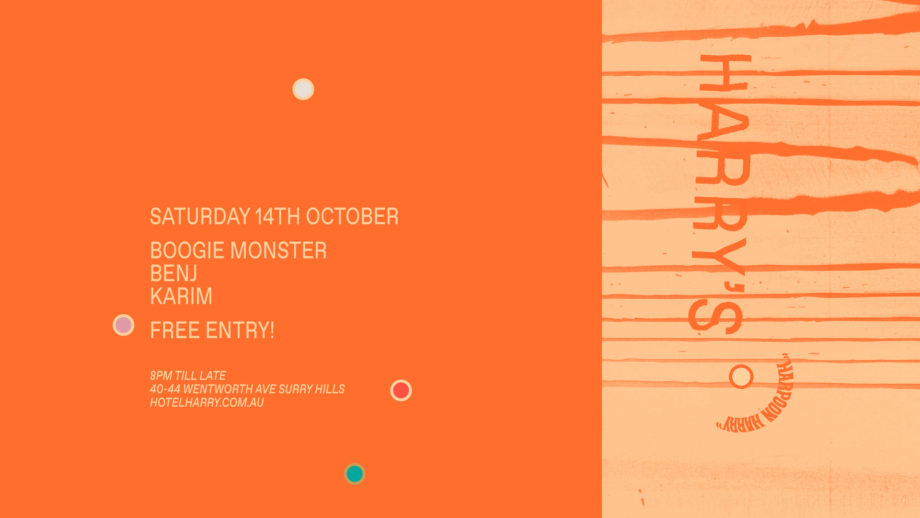 OCT 13 – Mike Who, Adi Toohey, Kato and Anno!
BOOGIE MONSTER
Don't let the name fool you, the only thing monstrous about this man is his ability to get a crowd moving at will. Boogie Monster will be bringing a record bag full of records that'll keep the dance-floor firmly locked in! With his recent closing set at S.A.S.H bringing the courtyard to its knees, we can't wait to see what he brings us this Friday.
—

BENJ
Hailing from the infamous YO LK crew, Benj knows how to start a party in the most unusual places. His recent project with Under The Dome has a focus on moving the club atmosphere into your local park, tinnies in hand and smiles all round! Benj has built himself a reputation of being a DJ for every party, with his early infatuation with UK bass, his ever evolving expressions of disco and of course his love for all things house. We're stoked to have Benj upstairs by the bar, diving deep into his collection of house groovers!
—

KARIM
He is no stranger to bringing a dance-floor to life no matter what the occasion. Karim has proven himself as a one of Sydney's finest selectors with killer appearances alongside legends such as Mike Dunn and Peven Everett. With a collection layered with low slung Disco and House, Karim always gets you in the mood to whip out the Tequila and get down.
Harry's Comedy Every Monday I.D. Comedy & Harry's presents. The new home of Comedy… More
We're open Surry Hills. Currently taking bookings for groups of 2-20 guests. Book Now… More